Product Description
The Djabe came out with a new studio album at the end of 2022. On the recordings, we can hear the band's new line-up including new keyboard player, Zoltán Bubenyák:
Tamás Barabás – bass guitar, guitar, synth programs, vocals
Attila Égerházi – guitar, percussion
Áron Koós-Hutás – trumpet, flugelhorn
Péter Kaszás – vocals, drums
Zoltán Bubenyák – keyboard instruments
Several musicians who are regular guests can be heard on the album again:
Steve Hackett – guitar, harmonica
Rob Townsend – saxophone
Tibor Karvaly – electric violin
Éva Kozma – koboz
György Mesics – violin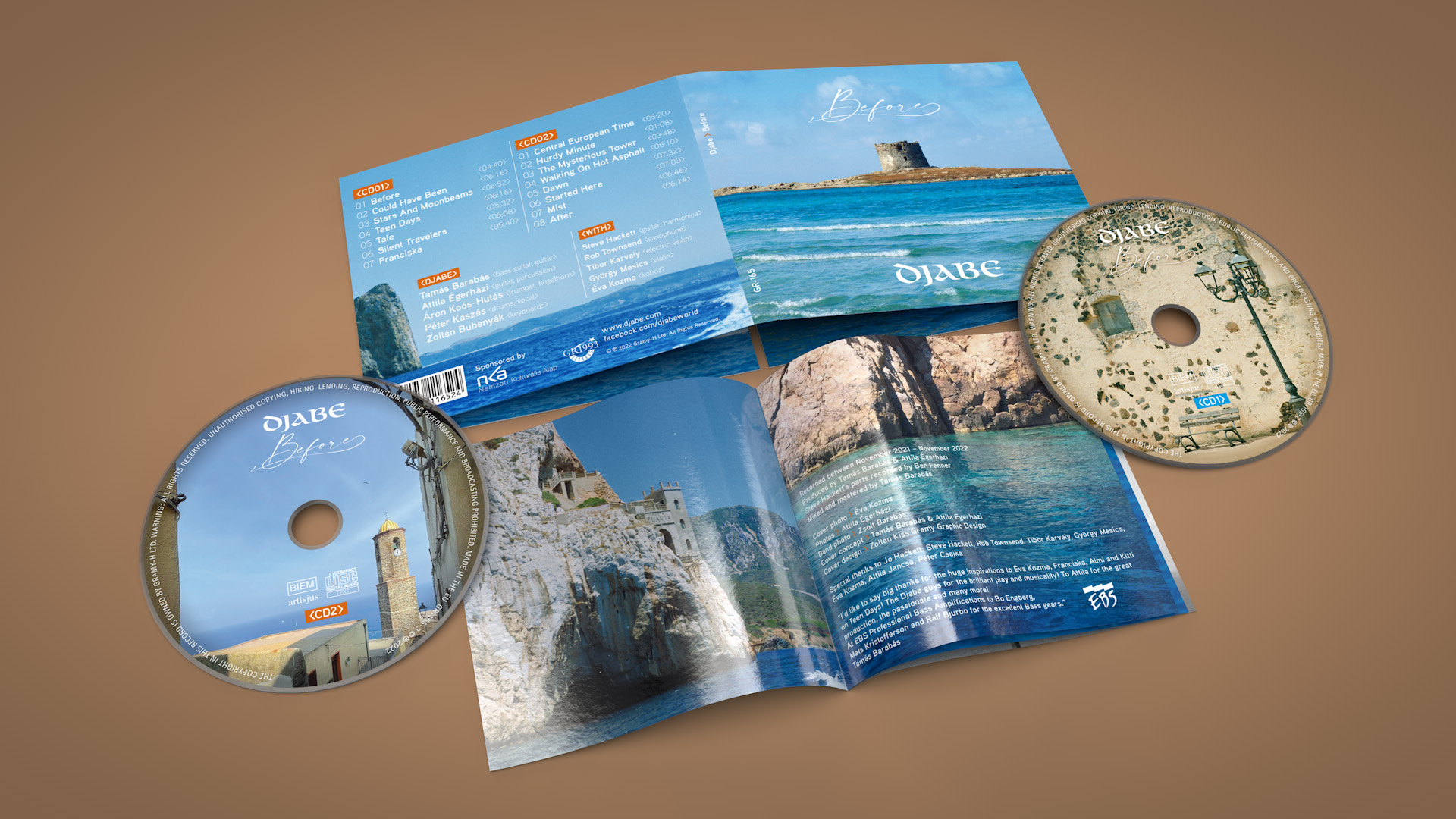 László Bese recommends the album:
"The album 'Before', which will be released firstly in double CD format, contains fifteen new original recordings. Although the beautiful photos of the four-panel digi sleeve packaging once again praise the beauty of Sardinia, this time the recording sessions were taken in Hungary, Denmark and England.
On the double album, the current line-up of Djabe can be heard as the core band, namely: Tamás Barabás bass guitar, guitar, synthesizer program, vocals, sound engineer; Attila Égerházi guitar, percussion, producer; Áron Koós-Hutás trumpet, French horn, Péter Kaszás vocals, drums; Zoltán Bubenyák keyboards.
As well as four guest artists already known from previous records: Steve Hackett guitar, harmonica; Rob Townsend sax; Tibor Karvaly electric violin; Éva Kozma koboz and a newcomer in Djabe colors, violinist György Mesics.
As usual, once again the colorful arrangement plays a bouquet of songs that is perhaps even more colorful than before, in sound quality that is considered to be top-class worldwide. Through which the instrumental qualities of the virtuosos, the extra colors and moods added by the guests, and the especially progressive song structures of the authors' compositions, which are built from diverse stylistic elements, are very well enforced.
Similar to the album "The Magic Stag" released two years ago, the performance of singer Péter Kaszás is again overwhelming. Such professional vocal performance, with absolute reason and measure, adapted to the needs of the given composition, can be heard almost exclusively on American soul, superpop and westcoast albums of the previous century. Peti doesn't push anything too far, he doesn't bend mindlessly anywhere, he doesn't scream at the top of his lungs, he doesn't want to show how great a king he is at all costs. On the other hand, as much as he sings, it is exemplary, and could even be immediately included in the curriculum of any professional music school in the world. Personally, the title track is the winner for me, but it's completely understandable if someone else's favorite is "Stars And Moonbeams" with lyrics by Jo Hackett.
I thought a lot about what else could be written about Djabe's music after such an oeuvre, and what could be highlighted from the new set of songs. But even after a week and a half of brooding, I couldn't come to anything other than that the compositions of "Before" continue to bring the usual high standard, while still ignoring genre boundaries, but freely wandering between eras and genres.
In case of Djabe, Tamás' composition "Started Here" may seem like a new tone, which exudes an atmosphere of unusual gravity, almost dark music. Another interesting novelty is "Mist", in which Steve Hackett plays the accordion, evoking the cheerful, liberated, jamming moments of the encores of the last tours. After his first two daughters, Alma and Kitti, Tamás also captured the newborn Franciska on the new album. May God richly bless the youngest baby Djabe and his family!
The double CD edition of "Before" also sounds extremely good, and moreover, it has an attractive design and is a must-have piece for a collection. But of course, the real hi-fi and high-end celebration will only come later, with the launch of DVD-audio, double vinyl, and core tape and master tape versions due in 2023. Viva audiophile quality! Viva Djabe!"
1. Before
2. Could Have Been
3. Stars And Moonbeams
4. Teen Days
5. Tale
6. Silent Travelers
7. Franciska
8. Central European Time
9. Hurdy Minute
10. The Mysterious Tower
11. Walking On Hot Asphalt
12. Dawn
13. Started Here
14. Mist
15. After