Founded in 1995 by Attila Égerházi (guitars) and András Sipos (percussion, vocals), DJABE released a row of studio and live albums, became the number 1 jazz/world fusion band in Hungary and played during these years in 42 countries. These first class musicians created their own, unique sound. Elements of jazz, rock, Hungarian, European and African folklore are mixed in absolutely natural, organic way. The more I listen to Djabe music, the more I love it.
Wherever they play, Djabe are always warmly received by listeners and critics. I guess these two opinions sum up well numerous positive reports:
"The best band I've ever played with." – Steve Hackett.
"By the end of the concert we will become slightly different people…" – International DVD Magazine.
Attila Égerházi, bandleader, founder member, guitarist and composer, the manager of his own record label Gramy Records, kindly agreed to answer our questions. But when we prepared this interview it became clear that many questions were already answered in interviews made for the band's 15th Anniversary DVD "Djabe 15". Thus Djabe musicians, Tamás Barabás (bass), Ferenc Kovács (violin, trumpet, vocals), Szilárd Banai (drums), Zoltan Kovács (keyboards), and the band's friend and long-time collaborator Steve Hackett virtually joined our conversation*.
Attila, welcome to ProgArchives. Last year Djabe celebrated their 15-th anniversary, my congratulations. Let's talk about the band's music, its members, some moments of Djabe biography and other things related, not necessarily directly, to your music.
Attila, your father was a painter artist, your grandfather was a conductor and multi-instrumentalist. You graduated Technical University. Was it a tough choice to make music your profession?
Attila Égerházi: No, it was easy to choose the music, but was a zig-zag way to pull out something really professional.
My approach to the music let me create an exciting music, and I was lucky in finding my band and soul mates, all fantastic professionals.
Ralph Towner, Oregon, Jan Garbarek, Weather Report, Genesis and King Crimson are listed among your influences. But who were your musical heroes when you started playing guitar?
Attila Égerházi: My heroes were: Steve Hackett, Ralph Towner, John McLaughlin and David Gilmour,
Let's turn back to the year 1995. How your previous band, Novus Jam, became Djabe? Who offered the name Djabe?
Attila Égerházi: My co-founder band mate András Sipos, or as we called him Sipi. He played African, Arabic, South-American and Indonesian percussions. Djabe means freedom in African Ashanti language. This freedom was our approach to write and play music. Both of us were self-taught musicians. We followed unconventional writing and arranging way. And still it is, but later we added well educated jazz musicians to the band, who could accept our concept.
László Zeke: How did you meet first?
Tamás Barabás: First it was only studio work. I think it was so for Muki (Ferenc Muck) and Feri (Ferenc Kovács) that we got acquainted during the studio work.
Then Muki and I were asked if we wanted to be members.
We said OK and from that point we started doing this 4-member formation.
László Zeke: What was your reason to agree?
Tamás Barabás: It wasn't an everyday music. Sipi was quite a character… He was interesting as a person and as a musician, too.
We found some plus in Djabe that other bands did not possess.
To help PA visitors understand how the band's sound and ideas developed with time, please give us your long or brief views on all or some Djabe albums.
I guess first album is very special for any artist. Please tell some words about it.
Attila Égerházi: This was a fourth CD I produced as a band member. In addition on the first Djabe CD all the musicians played, whom I'm worked with on the previous three ones. But the concept and the approach to the music had changed in 1995.
I was a founder member of Novus Jam in 1983. We had a great success in my hometown Debrecen in 1983 and 84. In 1985 I had to spend one year in the army as I accepted to the Technical University in Budapest. The life of the quartet paused for 4 years.
In 1989 we got together for some gigs in Budapest. In 1993 the flutist (Judit Gesztelyi) and me recorded an album under Judit's name. Next year we put together the Novus Jam again and released the album "Profiles". Judit was the one, who met Sipi and invited him to join for the "Profiles" recordings in 1994. We supported "Profiles" with a domestic tour as a trio. Judit on flute, Sipi on percussion, and me on guitar. The Novus live album in 1995 captured the Debrecen show.
After this period we started to record a new material with Sipi. Judit didn't like the fresh compositions, and we invited some new musicians to record our new music. Ferenc Kovács on trumpet and violin, Ferenc Muck on saxophone, Tamás Barabás on bass.
Tibor Karvaly (violin) and Tamás Rácz (guitar), original members of Novus Jam, also played on this album, which in 1996 released under the name Djabe. In 1997 Sipi and me put together a band to play the numbers of the first album live, and to record the second CD.
This was the first official line-up of Djabe:
– András Sipos – percussion, vocal,
– Tamás Barabás – bass,
– Ferenc Muck – tenor and soprano sax,
– Attila Égerházi – guitar.
László Zeke: Who wrote compositions at that time?
Tamás Barabás: Attila and Sipi, the real core guys.
Attila Égerházi: We used to improvise with Sipi and not only in the studio.
Then if we thought we had found something good, we would return, record them, and we had a range to select from, to edit.
When a composition was about to take shape we called the others.
This was our modus operandi in the beginnings.
Did the first Djabe album change the band's life in terms of popularity?
Attila Égerházi: Juventus Radio played the track "Coffee Break"for a year in the selector which means it was on air six times a day.
László Zeke: How did it reach the radio?
Attila Égerházi: We simply sent it to them.
László Zeke: And the video with the bus?
Égerházi, Sipos, Muck – Djabe video
Attila Égerházi: That is the video of the hit Djabe, which also had a radio friendly version.
It doesn't feature percussion, it is based on groove but there was djembe obviously.
Coffee Break was better received in the media, it was on more times, but we preferred Djabe, that's why the video was made. I think it was a work of professionals. I still have good feelings watching it, I still think it kept its ground. It is quite rare that a non-pop band shoots their video onto 35mm film then edits it in a professional environment.
We wanted the whole thing to be humorous, that's why we had the bus, the dancer girls, the fun…
The audience loved it.
So our first so-called concert at Petőfi Hall was sold out so much that people were not only sitting but standing, about 1200 people were there.
Today it would be harder to attract 1200 people as easily as the music we play now is closer to jazz. Our fan base was much bigger than today. However, I always used to say to produce good quality, something of a high standard, make good music because we love it. And then we found the place of the music we play nowadays.
This is justified by our concerts abroad. The music we used to play in '98-99, in 2000 we probably couldn't appear at renowned international jazz festivals where quality is important.
At that time my idea was to create a real show, something professional and enjoyable for the audience so that they wouldn't get bored.
László Zeke: How many of you were on stage then? How big was the crew?
Attila Égerházi: Four of us played the music and there were about six or eight dancers. Gábor Bakó was the choreographer and used to dance, too. His students formed the dance group. We devised part of the show when the dancers entertained the audience beside us. I think it was a good thing but our gigs would be strange with dancers today.
Are there any stories behind funny titles of these two pieces: "Late Night Drink" and "Hangover"?
Attila Égerházi: No. I don't drink alcohol, maximum one beer a week. I don't like spirits at all. When we finished those numbers, these titles were match with the mood of them. "Hangover" is a parody of a drunken trumpet player.
From the very beginning all Djabe albums are released by the band's own label Gramy Records. Did you try to deal with other labels before or you initially wanted "to hold all cards in your hands"? Did Djabe already have then, in 1996, their own recording studio?
Attila Égerházi: I never wanted to sell our music to other labels. I never wanted to present to record business people how good we are. I never wanted to be auditioned. I got the model from Frank Zappa. I built a recording studio in 1997, I recorded all the gigs with my own equipment, I run a records label, etc.
During the time of the first Djabe album the Gramy Recording Studio was just a plan, so we recorded it in three other studios in Budapest and Debrecen, and some guitar parts at home.
Attila Égerházi: Witchi Tai To was a composition I first heard by the band Oregon then Jan Garbarek at the Debrecen Jazz Days live. When my band took shape, I felt the urge to cover it. I found Sipi suitable to sing this song as it was his world.
I also chose this the title song because I believed that if there's a completely unknown band, it can be guessed what music it plays as the song Witchi Tai To was well-known.
I also thought it would be good towards abroad by giving an international taste to the production. It's not English, Witchi Tai To is an intermediate choice. My best experience regarding Witchi Tai To was in Portugal, in Porto Covo. We had been invited to a world music festival. Our concept was that once we were at a world music festival, we should play more world music than jazz. It was then that after a long pause we put Witchi Tai To into our set and I remember the audience received it very well and then it found its way back to our standard repertoire.
First compositions written by Tamás Barabás for Djabe appeared on "Witchi Tai To" album. A year or two later he became, together with you and András Sipos, one of the main authors in Djabe. Did other band members encouraged him to compose or he offered his own pieces and ideas?
Attila Égerházi: Tamás worked on the recordings as a sound engineer as well, not on the first ones but he recorded most of our second album.
Instantly he found himself busy with arranging the music.
With his knowledge and professional approach he wanted to make the tracks also more professional which resulted in him writing numbers, or rather we had mutual compositions.
Attila Égerházi: It was in fact a more conscious choice than Witchi Tai To. The concept with Lay O Lay Ale Loya was also to increase our popularity, position our band with a well-known world thing. By then Tamás and I had discussed matters, the music we wanted to play, how to make recordings, and then I showed him this track. He got interested and it was him who arranged our cover from this authentic Indian theme.
Tamás Barabás: This was the album where I started arranging the music, getting involved.
Attila Égerházi: There was a tour to accompany this album.
We carried on with the show and the lighting system.
But we replaced the dancers with projection. By Tamás taking a larger role in the arrangement, he brought more themes and he formed the final characteristics of the tracks. We wanted to illustrate and support the music by the projection. In fact, this was the point when we reached a summit in that kind of arrangement, mentality and we took full advantage of everything we could, and then we had to change.
Tamás Barabás: We had no problems with the instruments but there were the four of us on stage. We had played so many different instruments at the studio that it sounded empty on stage when only the four of us played. We came up with the idea to have a lot of percussion backing tracks, maybe we already had keyboards then, and then we would play to it.
We were a bit restricted this way and we had to know the structure of the songs very well. The tape would obviously not adjust itself to us if we happened to want something else, like a longer solo. Practically, the arrangements went beyond the point when four people could play them.
Attila Égerházi: We basically had the need of musicians.
Up to this album the line-up was completed – Zoltan Kovács (keyboards) and Szilárd Banai (drums) joined the band.
László Zeke: How did you and Sipi got used to each other? Did you feel any tension? Or any problem caused by it?
Szilárd Banai: There was no problem. But I felt a kind of, I don't know, not rivalry but something on Sipi's part.
Attila Égerházi: He tried to achieve new things. Tomi (Tamás Barabás) also tried to build up the music so that the two would complement each other. I remember we were playing exactly at the Steve Hackett press conference in 2004, and I don't know which musician said, the bass guitarist from that band that he liked this two-drummer line-up. There is a drummer with massive drum kit and a percussionist and they complete each other so well, and the rhythm section is very strong. Sipi was also a soloist, so occasionally he stood centre stage and sang and did a percussion solo, while Szilu (Szilárd Banai) was giving him the base to which he could put even more.
Ferenc Kovács was in the band from the very beginning, but he did not play with Djabe after their debut album. And in 2001 he returned.
László Zeke: With this row of people as we're sitting here, with the featured musicians and Sipi, the first album to be recorded was Update. What did it feel like participating in it?
Ferenc Kovács: It was curious to work with a band again and it felt like home. I also felt it comfortable. I had never been served so well as a musician. The backgrounds, the organization of the tour, and the sound surroundings on stage are all very important for a musician. Even more so for those musicians who widen their practice methods and reinvent their relationship with their own instrument.
So they keep evolving and don't want to stop. As Attila has said, some were fine with simply doing gigs only. But the band made a great step forward and I still like to listen to that album, my children adore it even.
László Zeke: Am I right in saying that Update was a kind of spontaneous music making as well?
Zoltan Kovács: No, for me it was exactly the Update tour that was incredibly disciplined and precise. I had much more to play on the keyboard that was part of the compositions. I had to play at a given place with a given tone.
Tamás Barabás: We were so afraid of having a drum kit and the piano after the band sounded with Ferenc Muck, the lineup of four. We somehow included the piano a bit anxiously.
Then we sampled a nice little nursery tune into Lead Soldier played on the piano.
It was then that we began to appreciate the sound of the piano. It was then that we realized how this sound would work in our music.
Táncolnak a kazlak / Sheafs are Dancing – 2003 (CD and DVD-Audio)
The album is inspired by painting arts of Attila's father, Imre Égerházi (1925 – 2001).
Imre Égerházi had a rare talent to see miracles in ordinary things – in his paintings details of landscapes can look like human faces and figures, sheaves begin to dance and eyes tell more than words can say.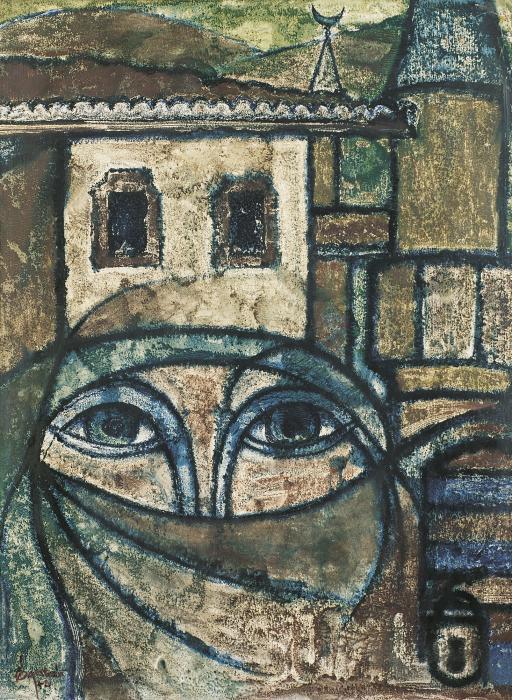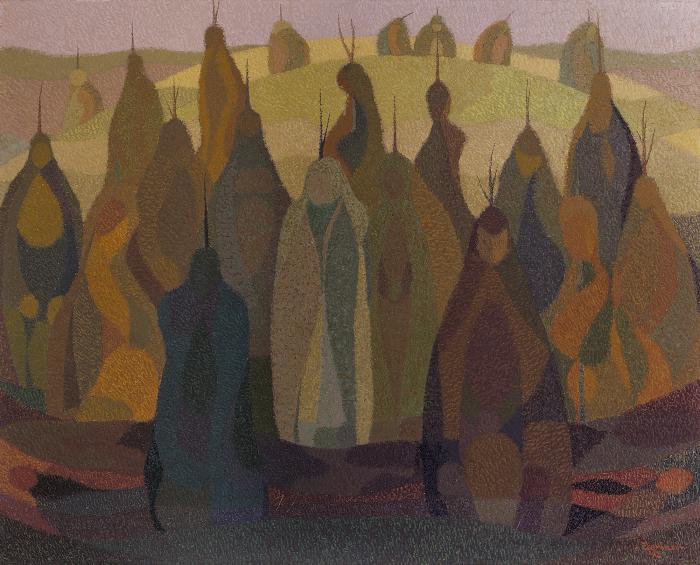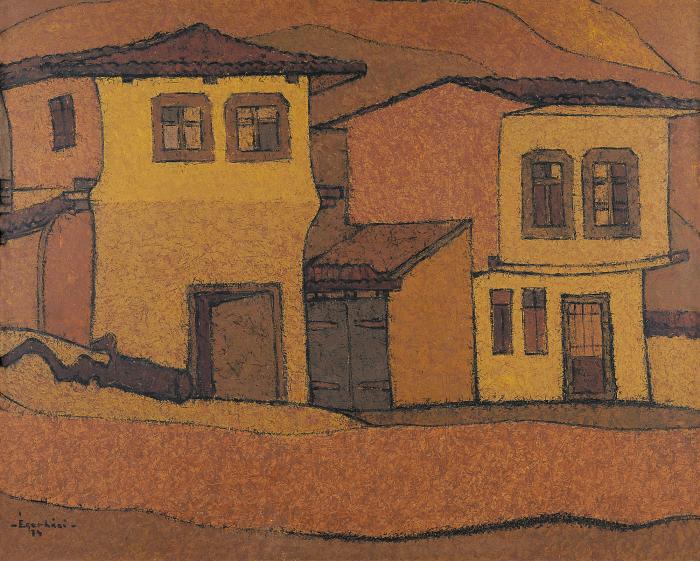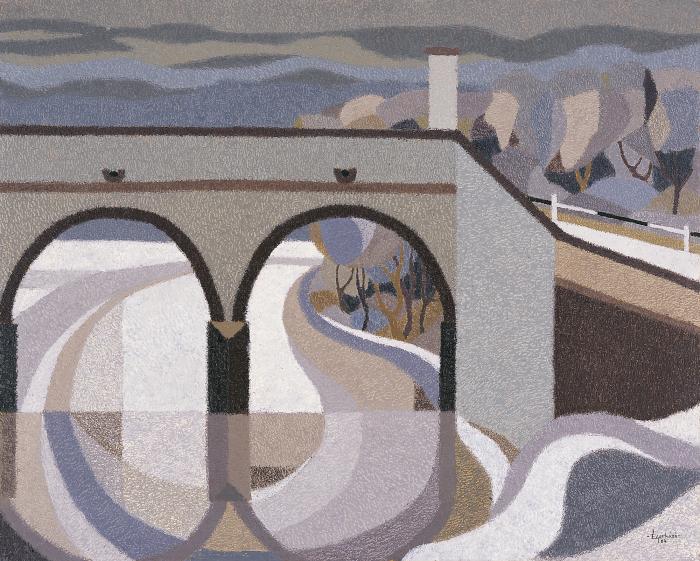 [Note: following this link http://www.egerhaziimre.hu/eletmu.php you can look at many Imre Égerházi's works, just select time period in the field Időszak.]
How the idea came to life, how it was supported by the band and received by your listeners?
Tamás Barabás: Attila and I had this idea independently. There was that sad event and the paintings were given. We somehow came up with the idea separately to write compositions to the paintings. Obviously, there had been a kind of thing like this in the course of history but we also wanted to try it. I didn't believe it would work so well. It happened like this: Attila showed me some pictures, the better known paintings, and also some less known ones. I chose a few and wrote my compositions to them.
The picture entitled Iceworld was also featured in a booklet. [In 1988 Imre Égerházi was in the state of clinical death on three occasions. He painted several pictures of these experiences.] I put the picture in front of my keyboard, I was looking at it, and the way I pressed the first chord started it all. So all this worked very well, that painting captured my imagination so.
When the composition was done, it touched everyone, especially those who had a near-death experience. There was a man at the press conference who came up to me and said he had had an experience like this and when he was listening to the song he got the shivers. So there must be a connection.
Ferenc Kovács: We were exploring something different. It made a disc like Sheafs possible to come out which is one of the summits of the Djabe quality. On it, it was real world music. We put our personalities into it, the artistic concept itself, which didn't require a foreign language or a foreign culture but our own. The tracks reflected on the wonderful paintings of Attila's father.
This album proved Tomi to be breaking new grounds compared to Update.
"Sheafs are Dancing" was the first Djabe record with Steve Hackett, one of the most respected musicians in prog community. How Djabe met Steve?
Steve Hackett: Well, it's been a long time since I've been playing and working with them and I think I must have heard something on record first of all but originally I met Attila when it was – he was a distributor for some albums of ours. So first of all I met him as a record company and we started talking, and I found out more about the group and I found it fascinating, the concept of this entirely fluid band that just adds and changes members all the time. It's a very interesting concept; it's a very, very good idea.
László Zeke: What was your first impression about their music?
Steve Hackett: Well, I thought it was very free and I think that the more I saw of it live the more I realized how free it was. When I first heard it I thought it was very tightly arranged and in a way it's become freer since then so it's developed over time.
László Zeke: I think the music of Djabe is a very nice combination of jazz, the world music and traditional authentic music. How can you find your role in this interesting mixture of cultures and music?
Steve Hackett: Well, I'll tell you what I often do: if I hear someone doing an interesting sound I sometimes try to create almost like a sort of a wasp behind them of a similar sound so you can't quite tell who's doing what. I like it when instruments start to sound like each other. We're not quite sure who's who. I've always enjoyed that when two instruments create a third instrument. So part of what I do is cloaking and masking what goes on.
It's something which is presented in a way where there's lots of room so anything can happen. And I think the best music is like that where it's not so much the set moments but the moments of happy accidents that are happening the whole time. And I love the fact that there's so much exotica within the concept of it because you know at times it's truly free, and I wish I had more of that with my own band. I always feel it's implicit or incumbent to be doing things that are recognisable. Whereas I think most musicians would always prefer to be doing something new so that fits. In that way Djabe fulfils that need for something new the whole time.
Djabe toured with "Táncolnak a kazlak" programme, it was filmed and released on "Sheafs were Dancing" DVD (2006)
You used screen projections, animations and surround sound on this tour. Please tell some words about these concerts. 
Attila Égerházi: At first, it was me who came up with lighting ideas but Tomi got interested soon as well. And I felt it did good to talk it over more. Especially when we devised the Sheafs Are Dancing tour, it needed a great brainstorming as it was a process that the album was done to paintings. It was also an extra that we released our disc into a book in which you could see the paintings. We also thought we could do more live. We projected films and we didn't stop at the paintings, they were followed by similar ones and themes attached to them. My father used to make super8 films a lot, so we had footages linked to the paintings.
Our idea was to play a two-hour video that wasn't so tight, it was more like moods except for Iceworld, in whose case an animated video was made. Iceworld was one of the paintings made after the near-death experience and there were six other paintings as a series. My father always used to say that he would paint his short footage like experiences as he could but, it would do better if they could be made into a real film instead of a still like paintings, because he watched short "footages".
He explained them on cassette and with the help of voice recordings an animation team at Focus Fox Studio lead by Csaba Vass created the animation.
We weren't charged for it, they loved the idea so much. We played live at the concert to the video.
Jégvilág (Iceworld) animated video
The real extraordinary thing was that Tomi and I came up with a system how to make it sound in surround, in 5.1 live. We wanted our band to sound like this, how does it sound on the DVD Audio version of Sheafs Are Dancing, we didn't want a simple, stereo soundscape but the audience to be surrounded by the music, because we thought they would have an even more interesting musical experience if they heard everything better. Moreover, this surround environment, which is brought to life by effects, backing tracks, even with the moving of the instruments around, provides a more interesting experience.
We devised and built our own audiovisual system. A Mac computer with Protools controlled the band, the sound and the video. So we created a complete multimedia system on our own, but it was the band of course the essence of it because we played the whole album live to the computer provided audio and video backgrounds.
Attila, I know your father was fond of Djabe and often attended your concerts. Did he encourage you to be a musician from the beginning of your career or it took time for him to see that his son found his place in life?
Attila Égerházi: No. He said to me: Do what you like, and you will find your way. The things will turn out themselves.
He was happy, that I choose architecture first as a profession, because this is close to the fine art. But at the end he was happy with my musical activities too. He was happy with my results and I could support him with my company too in his last years of life.
Where are Imre Égerházi's works now? Is there some permanent exposition? 
Attila Égerházi: He has a memorial house in his hometown, Hajdúhadház, with more than 100 very important paintings. He gave a whole lifetime collection to the Deri Museum in Debrecen. His paintings can be found in several Hungarian museums, The National Gallery in Budapest, different institutes and collectors. The family also has a more than 1500-piece collection with oils, monotypes and graphics.
Some later albums were also released both on CD and DVD-A. Is Djabe the only Hungarian band recording albums in surround sound?
Attila Égerházi: Not the only one, but I don't know other band from the jazz, world and rock scenes. Akos, a very intelligent quality pop star and producer made several surround recordings too.
Slices of Life – 2005 and Take On – 2008
Tamás Barabás: Slices of Life was the first album where I tried to transform the compositions in arrangement and in sound to prepare them deliberately for our gigs abroad. We had seen what they wanted there. You have to play a bit differently at a jazz festival than at your own gigs. Everyone was aware of it in there solos, too…
It had to fulfil the requirements of that atmosphere.
So it was all conscious.
The following album, Take On represents almost the same attitude. You realize exactly at these stages of the international tours what works well.
We almost come up with these ideas on stage what suits everyone individually in the band.
Attila Égerházi: In the beginning, when these gigs started, we had to apply our older numbers to fit these festivals. It was exactly Tomi's idea to create pieces so in the first place and then we wouldn't have much left to do at a festival. You can discuss whether to make certain parts longer or shorter, but you don't need to transform them. The new compositions were considered from this point of view as well.
Djabe recorded an impressive number of live albums and videos. I believe this record, dedicated to your late friend András Sipos, is very important for Djabe.
Sipi Benefit Concert (featuring Steve Hackett) – 2009, released as 2CD and 2DVD
Above the Skies (with Steve Hackett) video
Please share your memories of that evening, when lots of friends came to say their last farewell to András Sipos.
Zoltan Kovács: We all you know it, and in my view, we all talk about him in remembrance as if he was still with us. He is still not featured in the Djabe stories as a separated part. Well, while Djabe exists, I'm sure it will stay so.
László Zeke: For me – it's my personal view – the most memorable part of the Sipi benefit concert was Sipi himself playing in the background. Those who don't know much about these things or not a musician may not appreciate what a big achievement it is to play with a video. Because he should accompany the group. It was incredible to see how it can be done live that someone who's not alive can play on the video in the background and the band plays in sync with him.
Attila Égerházi: He watches over the band and when he's needed, he joins in.
This was, so to say, the most defined part of the evening. It caused this fantastic feeling to everyone, and everyone got wings. Our special guest, Steve Hackett got such wings that he stayed with the band.
László Zeke (question to Steve Hackett): You offered that you would come to Budapest. Attila told that it would be great but they couldn't pay in reply. The only thing you wanted to know is the exact date and place of the concert. Why did you feel that was so important for you to be here in Budapest for that occasion?
Steve Hackett: Well, Attila is a great friend and so all the guys in Djabe. I'm incredibly impressed by all of them as musicians, they're all fabulous. But more than that, I have an idea that in the ideal world, music would exist without money. It's not, it's not about the money I think for most musicians, I think it's about the chance to create some magic together, the alchemy of it, a spontaneous gesture, the ability to be able to surprise yourself, and I have to say that although I've been a professional musician for most of my life, and I'm 60 now, I think the times that I've enjoyed best on stage were the times when I was improvising and there was no money involved within whatsoever. It was just something that happened where the instrument took off in my hands and I was just there to try and hang onto it as it took off. So sometimes you get the feeling that you have a visit from some incredible guitarist who takes over from me and does something that surprises even me. And I live for those moments. When that happens, that's incredible, I just – if I could exist like that the whole time that would be Nirvana. Perfection.
Djabe recent live releases In the footsteps of Attila and Genghis – 2010 (2CD) and Jubilee double DVD Djabe 15 (2011) also feature Steve Hackett
Djabe often tour with Steve. How it is to work with him?
Zoltan Kovács: He's a very-very good, kind-hearted person, and as a musician I feel absolutely secure when he's on stage with us. You can't detect uncertainty in the Djabe tracks, which is not really his music. He can bring an essential colour to it, and it's a very important plus. When we began to play his numbers, we realized that experiencing them internally, the whole material is very good, a very serious cohesion. I love to play Steve's music very much.
Szilárd Banai: He reacted to all of us perfectly. He is an absolute musician. It is very rare if someone joins an existing production, the whole thing changes completely.
Tamás Barabás: He didn't have to give us musical instructions or the other way round, somehow the whole thing fit. He is a personality, when he appears, the band is more disciplined in their play, it is obvious as we respect him very much. Even more, since we got to know him as a friend. He is a friend now.
László Zeke (question to Steve Hackett): You are not only a studio star guest of Djabe. You've taken part in concerts several times, for example in London or in Graz; in Romania more than 13 thousand people saw your concerts. Which performance was the most memorable for you and why?
Steve Hackett: Well, you know we did a tour a while back and got to visit extraordinary places. You know we got to play in – Sarajevo was extraordinary, you know beforehand we didn't now if – I had a piece of my equipment missing and I didn't know if it was all gonna function. You know it was on a knife-edge and yet the concert was extraordinary.
At the end of the day, you know the message of music is that – and especially with Djabe – is that I feel there would be no nationality or race that would be excluded from playing with this you know it really is world fusion. You know it ranges from Morocco to Azerbaijan to America to England. And that doesn't stop, that's I think that's a very great thing.
László Zeke: Nowadays, we can hear Genesis adaptation in the concert. How does it sound from the Djabe?
Steve Hackett: We're about to do it now. It sounds like Genesis plus. You know it's Genesis but in another way, on a grander scale.
Genesis was five guys when I joined, then it became four guys, then three guys after I left and then it became I think two guys. But you know my idea for Genesis was I thought we should work with lots of people. You know there should've been a Genesis orchestra at the end of the day but it's – Genesis had the opposite philosophy and I doubt that there will be any more from Genesis ever again.
Firth of Fifth video (with Djabe)
There are some heavy and rocking compositions on Djabe live albums with Steve. Can we expect heavier sound on future Djabe records?  
Attila Égerházi: Djabe means freedom. It means nothing is directed in advance for us and the audience. So, some heavier bits are possible. But this is not the way we walk.
And some questions not only about music
Do you remember the moment when you realized: Djabe is a strong band and it has its own identity (or perhaps you knew it from the start)?
Attila Égerházi: I felt good from the beginnings, but the international success of the Update album convinced me, to try ourselves in abroad.
Some musician said that it's easier to compose a piece than give it a name. Titles of many Djabe tracks ("Above The Skies", "Distant Dance", "Winter Forest", "Clouds Dance" etc) help the listener to imagine some picture. Were such pieces composed with some images in mind or initially the music was abstract and entitled later?
Attila Égerházi: The music is coming often with visuals. If not, we can name it later.
Arrangements. Main band's arranger now is Tamás Barabás. Does it mean he makes all arranging work or it is a collective process and each musician brings his ideas?
Attila Égerházi: I record my ideas with my own, or with some of the band members, and then I present them to Tamás, who works out, and finalise them.
He works differently on his own tunes. He records everything with midi, and then asks the musicians to learn the melodies and add their own solos.
Tamás Barabás is now one of the best sound engineers in Hungary. As far as I can tell, good sound producer should have deep knowledge not only in music, but in technical side of recording process, equipment, acoustics etc. You are also producing Djabe records. Did you and Tamás have formal technical studies or your achievements in this field are a result of practice and self-education?
Attila Égerházi: We have our own recording studio, which is one of the best in Hungary. This is a big adventure. We learnt everything in practice.
Is Djabe a democratic band (i.e. to include some new piece in the repertoire is the whole band approval necessary)? 
Attila Égerházi: Djabe is a kind of a family. But my and Tamás influence on the music, set and plans are determining.
Biographies of Djabe members can be found here: http://djabe.hu/biografia_eng.html, but I can't skip the question about Ferenc Kovács (violin, trumpet, flugelhorn, vocals).
The list of his talents is unbelievable: musician and composer, key member of numerous musical projects, a European champion of kendo, an active kendo trainer, he produces famous wines, prepares meals, makes rustic carved pieces of furniture. Each of this occupations can take the whole life, do you have any idea how he can manage all these things?
Attila Égerházi: He is an extraordinary person. Steve Hackett is amazed by Feri. If he was born in the USA, he would be a World Star now. But he rodilszja ["was born" in Russian] in Hungary during the communist era.
According to his bio, Ferenc Kovács graduated as a trumpet teacher. I don't know any other musician who plays such different instruments like trumpet and violin. And he is so good on both of them that Archie Shepp tells about Ferenc: "Apart from being one of the best violinists of the world, he can play the trumpet like Miles Davis." When Mr. Kovács started play violin and did he have teachers?
Attila Égerházi: No he is a self-taught on violin. The Hungarian ancient violin sound is circulating in his blood.
All Djabe albums, including live and club releases, have perfect sound. Who is the man behind the desk, responsible for concert sound?
Attila Égerházi: Gábor Zrupkó is a member of the band from the point of view of the sound. What you hear and what we hear on stage depends on him.
The success of the band, that both the audience and we enjoy the play depends mostly on him. His role is not a spectacular one as he's never on stage but it is even more important. That is why we try to take him with us everywhere, and sometimes we get silly messages why we want to bring our own technician when they have a very good one, too. But that technician can't be the best if he doesn't know the band and our compositions as well as ours does, it is impossible to fulfil the task, it's impossible. That is why I credit Gábor as part of the line up most of the time.
Djabe are extra class musicians. To be always in a good form, does the band spend much time for rehearsals and practicing on instruments?
Attila Égerházi: Yes, we are all practicing, and making rehearsals before the shows. But the best rehearsal is the concert.
Do you and other Djabe members have time for listening music of other artists? Who are your favourite Hungarian and international bands (artists) now?
Attila Égerházi: Feri doesn't listen to any music recently. He is practicing all the time… I listen to different kind of music, from Brian Eno to Pat Metheny. Tamás and Szilard are listening jazz mainly, and Zoltan a lot of classical. But we all listening to Steve Hackett's music in the tour bus.
Are your friends and families interested in Djabe music?
Attila Égerházi: Yes. Djabe is part of our life.
How it is to be a musician in Hungary? Is it possible to make living only by playing music?
Attila Égerházi: Very hard. Unfortunately it is very hard to live from music only. We all need to do something else. Teach, work in other professions or do many studio or live sessions.
Does Djabe have sponsors?
Attila Égerházi: We have some sponsors and government sponsorship, but small part of the real costs.
Does Djabe have radio- and TV-appearances now?
Attila Égerházi: We have a good PR, but the commercial radios play other type of music. We do not make compromise with Djabe. We play what we like and feel good.
Did Djabe have negative experience with promoters (the band not get paid, bad equipment, technical and organization problems etc)?
Attila Égerházi: We have good and bad experiences both. In Russia too.
Illegal distribution of music via internet is a reality of our days. Some artists are strongly against it, some tell "do whatever you want with our music: upload, download, burn CDs, just don't sell illegal copies". What is your point of view on the problem?
Attila Égerházi: If somebody is stealing your property it is a crime. The music is the property of the author, the musician and the record label. The digital world collapsed the business, and the income of the musicians. Why do we like it?
Can you call one Djabe piece which is in your opinion the band's visit card?
Attila Égerházi: Djabe. Unfortunately Sipi sung it. Maybe I'll try one day…
Please tell some words about Djabe future plans. Can we expect a new studio album?
Attila Égerházi: Yes a new studio LP is coming. In addition the 5.1 reissue of the Update album will come out February 2012 with many audio and video extras on double DVD. We have just finished theSlices of Life tour DVD production as well.
What is Djabe for you and your band mates: only a group you are working in or it's a circle of friends as well?
Tamás Barabás: When we were looking for band members our primary goal wasn't to check what kind of musician they were. The reason why this band still exists and hasn't broken up is because we have become one family. We have said it many times before.
Attila, I thank you for the interview and wish Djabe to conquer new musical heights and visit as many countries as possible.
Let me quote your friend, tar player from Azerbaijan, Malik Mansurov: Not every band gets the chance to give a jubilee concert. Many musicians or band leaders dream of a band which can get to their 15 or 20-year anniversary concert… This is a great thing.
It obviously depends on every member, but I think it depends mostly on their leader. If the band leader is a good person, a good musician, and sensitive, this can all be achieved. I wish them further jubilees. A 20-year anniversary, a 25-year one…
Peace and love!
Djabe page on ProgArchives: http://www.progarchives.com/artist.asp?id=5019
Djabe official website (English version): http://djabe.hu/index_eng.html
Djabe CDs, DVDs, solo works of the band members and collaborators can be ordered from any corner of the world via Gramy Records website:http://www.gr1993records.com/rendeles.php
Special thanks to Rita Gueuth (Gramy Records), without whom this interview would not happen.
* – fragments of László Zeke's interviews with Djabe and Steve Hackett used by the band's permission